By admin
|
March 29, 2014
Willie, now known as Domino has his own Facebook page! From his updates, you can tell his life is now full of adventure and love in his home!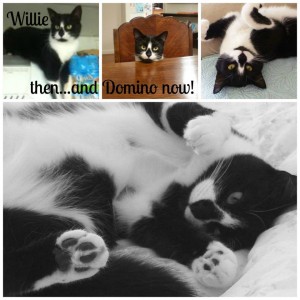 Many of you know my story, or part of it, but some of you may not. I was born almost two years ago and dropped off as a small kitten at the Better Days Animal Shelter in Shippensburg, PA. I was named Willie, and I lived there for several
months until I was adopted to what I thought was my forever home.

A lady took me to her house and kept me for awhile. I got sick, and she did not want to take me to a pet doctor. So, when I had diarrhea, she would just put me outside. I was very sick, and I had to go to the bathroom alot. Finally, she didn't want to deal with my yucky poops anymore, and she brought me back to the shelter.

They gave me medicine at the shelter and made me healthy again. Still, I had to share space, food, and litter boxes with over a hundred other cats. The people there took really great care of me, though. Then one day last September, another lady and her little girl came looking for a special pet. It turns out that they fell in love with me (ME!), and took me home with them.

For months I slept with my head held up, never quite able to fully relax and lay down. I prowled around the house from top to bottom looking for my best place. I ate like a maniac, because I was always a little afraid some other cat would come along and eat my food. I still had a few fleas that needed to be taken care of, and I had a parasite that a doctor needed to help my petmom get rid of.

I have kind of a nervous stomach, and will get gassy or poopy if I get scared. Maybe that's tmi. In any case, after 5 months at my new home, I'm feeling pretty great. The little girl loves to play with me and pick me up to snuggle. I let her. The lady does a lot of stuff with yarn and fabric and that is super cool for me. She lets me play with my own bits of yarn, and I pretty much follow her around wherever she goes. She slow blinks me a lot and tells me nice things. I think they are going to keep me.

Mom still emails Miss Crystal from the shelter. She loves to hear how I am doing, and was thrilled that I even have a facebook page now! They might even feature me on their website as one of the shelter's success stories. If they do, I'll be sure to let you know!!