Monthly fundraising events go a long way to help support the BDAL mission to provide a life of value, dignity and respect and that is why we rely on your attendance.  If you can't make an event, please consider donating the cost of admission to BDAL!  If you would like to assist with fundraising events, please email for more information.  Please also check out our thrift store page with specials at our thrift stores!
---
Upcoming Events and Fundraisers:
Holiday Season – Holiday Card Drive!  Send in a holiday card and a $1 donation to our furry friends.  See our flyer here.  
You are challenged to double your impact to our furry friends this holiday season.  Your holiday gift will be matched!  An anonymous Better Days Animal League supporter has agreed to match all holiday card donations dollar for dollar, up to $5000.    Your support allows us to save more animals.  Please consider sending in a donation during our holiday drive today!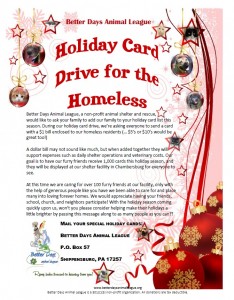 Ongoing – Better Days Animal League 2015 calendars, featuring adoptable Better Days dogs.  Buy at the Better Days thrift stores or through Better Days volunteers.  $15 with all proceeds going to Better Days! 
2/13/2015 – Valentine's Votive Memorial – Light a votive for $5 to honor a lost pet or loved one.  To light a votive or more information, please see here.  
Ongoing – Arooga's coupon book fundraiser.  Arooga's Sports Bar and Grill is coming to Shippensburg.  Available now are coupon books worth over $200 in savings.  Purchase a coupon book for $25 and Better Days will receive $6 from each book sold.  For more information, please see the flyer and coupon book order form.  To order books or to help sell coupon books, please contact Cindy.  
Ongoing – For the Love of Rescues – 2015 calendar sale.  Order a calendar and select Better Days Animal League as the group you wish to support!  $10 from the sale of each calendar is donated to the rescue selected!  
To view past events, view our event galleries here